ABOUT THIS PROGRAM
The Critical Consciousness Development Institute (CCDI) is a two-day intensive designed to introduce educators to foundational understandings of systemic racism, structural inequality, and broader social issues. Through facilitated activity, group dialogue, deep reflection, participants will co-investigate the socio-political context of education and think critically about how to utilize education as a practice of freedom. Led by award-winning teacher and educational consultant James E. Ford of Filling the Gap Educational Consultants, LLC, in partnership with the Harvey B. Gantt Center for African American Arts + Culture, this workshop will be done in conjunction with the Gantt Center's Initiative for Equity + Innovation.
* Pre-reading and activities will be required for participation
About The Presenters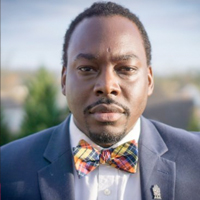 James E. Ford is an award-winning educator and consultant on issues of equity in education. He was recently appointed by Governor Roy Cooper to serve as a member of the North Carolina State Board of Education, representing the Southwest Region.
He is the former Program Director at the Public School Forum of North Carolina, an education think-tank and policy advocacy organization. Prior to this, he served as the 2014-15 North Carolina Teacher of the Year and the representative for 95,000 public school teachers throughout the state.
Ford earned a bachelor of science in mass communication from Illinois State University in 2003 and a master's degree in teaching from Rockford University in 2009. He received his Add-On Certificate from Wingate University in 2014 and holds an NC Principals License. He is currently pursuing his PhD at UNC-Charlotte in Urban Education.
Ford was recognized as Charlotte Magazine's 2014 Charlottean of the Year, the 2014 National Alliance of Black School Educators' Teacher of the Year and is a Carnegie Fellow. He is a civic leader in Charlotte, and self-professed "equity warrior" who believes education is a human right. He writes and speaks extensively on the topics of race, class, and education equity and advocates for the most disadvantaged student populations. Most notably, an article written after the Charleston, South Carolina shooting about the need to address racism earned him a handwritten note of praise from Secretary Arne Duncan. He writes for Education Post, EdWeek, Charlotte Magazine, Charlotte Agenda and EducationNC. His work has also appeared in EBONY and ASCD Educational Leadership magazine. Ford is the Principal at Filling the Gap Educational Consultants, LLC and also serves as the co-chair for the Leading on Opportunity Council in an effort change the systemic barriers to economic mobility in Charlotte.
Share This Info