The Harvey B. Gantt Center Announces New Artist-In-Residence, Photographer E. Mackey
The Harvey B. Gantt Center for African-American Arts + Culture is pleased to announce that Atlanta-based photographer E. Mackey is the institution's new artist-in-residence. Mackey was introduced to the Gantt Center when he was invited to lead their middle school artist residency pilot, EnVision Me, which ran for six weeks and concluded on March 24, 2021. He is currently developing an exhibition titled Choose Your Weapon, to open in June 2021, that will be based on his photojournalism book, "Lift Every Voice."
"We are honored to provide a platform that can amplify E. Mackey's vision," said David Taylor, President & CEO of the Gantt Center, "especially as it aligns so perfectly with our own. We witnessed his passion for art as activism and his willingness to take on new challenges in his stellar performance as our teaching artist for EnVision Me, one of our Initiative for Equity + Innovation programs. We hope to harness Mackey's considerable expertise toward advancing the Initiative even further with an exhibition that demonstrates, undeniably: Black Lives Matter."
The Gantt Center's Initiative for Equity + Innovation (IE+I) leverages the museum's art exhibitions, programs and relationships to help close cultural divides and promote diversity. Since the inception of IE+I in 2018, the Gantt Center has dedicated its second-floor gallery, informally known as the Hewitt Gallery, to exhibitions that focus on social justice. This is the space that will house Choose Your Weapon and feature photo and video installations depicting the stories and faces behind the struggles, protests and triumphs of Black Americans.
"It is an absolute honor to have been selected as the artist-in-residence at the Harvey B. Gantt Center," said E. Mackey. "Understanding what the organization represents and the magnitude of what it means to the community, it is humbling to know that I have been given a platform to contribute to the museum's mission. I look forward to everything that is to come, and it is my sincere hope that something that I do inspires greatness in someone else."
The Gantt Center's residency program, established in 2010, is intended to support Black artists who are inspired by African American culture, committed to artistic investigation and are interested in community engagement.
About E. Mackey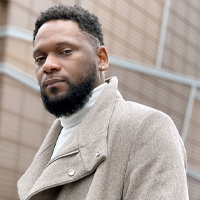 E. Mackey is a photographer, author and entrepreneur from Miami, FL. He started his career in 2002, finding notoriety as a musician, fashion designer and businessman. In 2010, he received a Bachelor's Degree in Clothing Textiles and Merchandising from Florida State University. His music and fashion experiences evolved into a life of creative pursuits and business ventures that led to worldwide travel and the opportunity to work with countless brands and celebrities.
Mackey first picked up a camera in 2011, kickstarting his journey as a photographer. He explored the streets of Miami's South Beach, taking pictures of the homeless and sharing their stories on social media. By 2012, his growing love of photography led him to create Dope Heart Media, a creative agency that provides photography, video production, graphic design and other creative services.
Dope Heart Media gave Mackey inroads to create content for brands such as Rémy Martin, Hennessy, Mercedes-Benz, Toyota, Twitter, Google, eBay, Amazon and Pfizer. In 2018, he obtained his Master's of Fine Arts from Full Sail University, which, coupled with the relationships and experiences while managing Dope Heart Media, served as launchpads for his next venture: Blvck Spades. Founded in 2019, this lifestyle brand started as a deck of playing cards and expanded its product offerings to include clothing, housewares, electronics and accessories.
The summer of 2020 was a turning point for E. Mackey. He felt compelled to become actively involved in the movement for Black lives and spent almost four months traveling to 11 cities around the country, documenting the historic protests. Mackey's images from the demonstrations became highly regarded and featured in a Doritos commercial and utilized by news outlets worldwide, including CNN, The Washington Post and Democracy Now.
Understanding the significance of the movement, Mackey decided to create the photo book "Lift Every Voice" to tell its story and provide context from a Black perspective. This led to his establishment of a publishing company called Black Creator Collective, in which he self-published the book. Learn more at lifteveryvoicebook.com.
Posted on Wednesday, April 14, 2021
Get the latest from the Gantt & subscribe to our mailing list.
Your support helps the Gantt present exceptional exhibitions, leading scholars and engaging programs that celebrate the African-American story.